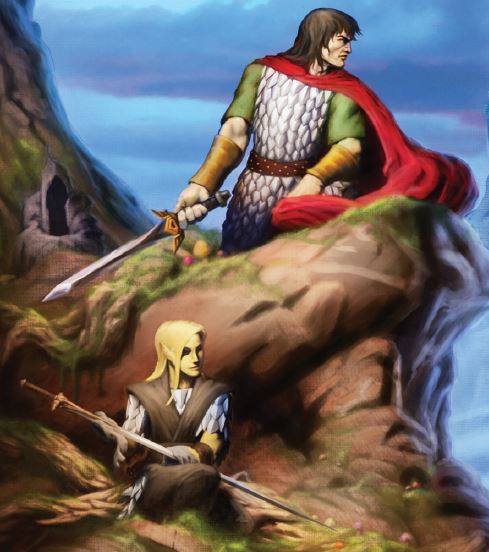 "Every choice has its price, my father taught me this. He who believes he can win all and lose nothing lives a life of dreams. In the end, he will find that for every thing he has grasped, two others have slipped away."
–Zoltha
Jonathan Oldenburg was born in the Pacific Northwest.  As a young child, he quickly glommed onto reading, particularly fantasy and science fiction.  He grew up on a steady diet of such greats as Lloyd Alexander, C.S. Lewis, and, of course, J.R.R. Tolkien. Though his early writing efforts were crude at best, Jonathan drew his first world, an island archipelago, in the seventh grade.  Over time, his reading interests expanded to incorporate history thanks, in large part, to trips to Civil War battlefields such as Gettysburg, Antietam, and Fredericksburg.  By high school, his fiction love remained fixed on fantasy and sci-fi, but his fascination with history had expanded to World War II, most notably the armored warfare of the Western Desert. 
This path led Jonathan to the United States Military Academy at West Point.  As a cadet, he was fortunate enough to stumble across "The Wargames Committee" and the company of fellow grognards.  When not embroiled in drill or study, he waged war across the fields of Arbela, Hastings, Waterloo, Stalingrad, Hoth, and Middle Earth.  Yet it was in the role-playing medium that he first found his fascination with characterization.
Graduating, not surprisingly, with a degree in history, he was commissioned an armor officer.  After a short stint at Ft. Knox, KY, he spent the rest of his five military years at Ft. Hood, TX.  In that time, his interests in history spanned beyond a military focus to the socio-political as well.  This carried him through the long years of our own civilizations from Egypt and Greece to Rome and the so-called "barbarians."  Through the feudal era into the Glorious Revolution, the Age of Exploration, the Age of Napoleon, and into our modern era.  He read of lands and peoples from Japan to Turkey to Wales to Mexico and Russia.
In early 1999 the world that was to become Isfalinis began to take shape.  He started with history and short character sketches.  Perched atop an M1A2 tank at the National Training Center, CA, his cold and sandy MRE sitting beside him, he penned one of his first works of short fiction.
But it wasn't until after Jonathan resigning his commission and returning to the Pacific Northwest that he began to focus on a novel.  To his regret, he spent far too long working on his first where he might have learned far quicker stumbling through several.  In late 2012, he abandoned his early efforts and turned his attention to "Memories of the Cataclysm," finishing the first draft of "Tears from Iron" about eighteen months later.  Rather than edit a story that was still too full in his mind, he forged onward to write the sequel, "A Whisper in the Sand," which was completed in mid-2015.  Since that time, he has been polishing both of them for publication while preparing the ground for the third book of the series.  That publishing manifested itself in 2018 in none other than the form of one of his old grognards.
A student of history and of character, it is Jonathan's ambition to bring forth stories with a gripping narrative that also explore people and places more similar to our own experiences than we might immediately think.  Rather than starting with a story and fashioning a world, Isfalinis is a world as full of stories as our own.  It is Jonathan's intention to spend the rest of his time on this Earth plumbing the depths of it.
To learn more about Jonathan's writing journey, his various writing foibles and lessons, as well as the unveiling of the world of Isfalinis, subscribe to his newsletter.